Kind Reminder:
Buyers can directly print the bar code after information verfication

NOV.1st-3rd 8:30-17:00
NOV.4th 8:30-14:00

TEL:

0579-85415888

trade@yiwufair.com
You are here:

About Yiwu Markets
Yiwu Commodities Market is known as the "Ocean of Commodities, and Paradise for Shoppers". Since its establishment in 1982, Yiwu market has occupied a total business area of 5.5 million square meters with 75,000 commercial booths, over 210,000 people working in it, covering over 1,800,000 commodities. In 2005, according to the report Astonishing Figures of China issued by the United Nation, the World Bank and Morgan Stanley, Yiwu market is the largest commodities market in the world. Every year, commodities are exported to more than 200 countries and regions. The UNHCR, Carrefour Asia and Ministry of Foreign Affairs have all set up their own purchasing centers in the city.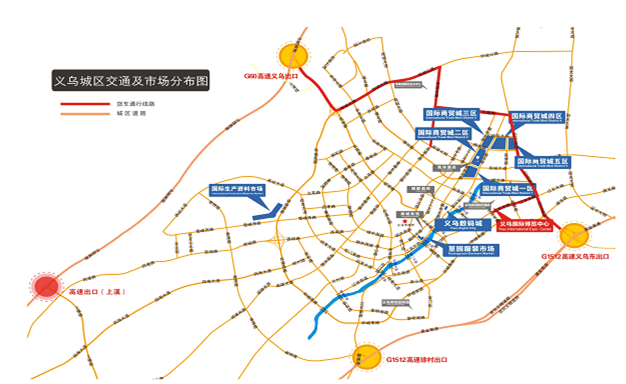 Huangyuan Market More than 5700 booths

Jean,Men'sWear,Dress,Sweater,Pajamas,Children'sWear,Sportswear,ChaozhouWedding Dress,Evening Dress,Imported South Korean Garment City

The international Trade Mart District 1 More than 10500 booths

Common Toy, Inflatable Toys, Plush Toys, Electric Toys. Jewelry, Hair Ornament, Jewelry Accessories Flower Accessories, Decorative Crafts, Flower, Festival Crafts, Tourism Crafts, Ceramic Crystal, Photo Frames

The international Trade Mart District 2 More than 8000 booths

Umbrellas, Suitcase Bags, Vehicles, Rainwear PLOY Bags, Hardware Tools, Hardware Kitchen Bath Locks, Clocks, Watches, Electrical Products, Home Appliances, Telecomunication, Electric Instrument Hardware Components

The international Trade Mart District 3 More than 6000 booths

Spring Buttons, Zippers, Glasses, Cosmetics, Pens & Ink Paper Articles, Office Supplies & Stationery, Sporting Articles, Sporting Equipment, Material, Spring Festival Pictures, Wall Calendars and Couplets Educational Toys, Mirrors and Combs, Printed Pictures

The international Trade Mart District 4 More than 16000 booths

Socks, Daily Necessities, Footwear, Ribbon, Knitting Cotton Articles, Knitwear, Neckties, Towels, Wool, Lace, Leggings, Bras and Underwears, Scarves, Belts, Printed Pictures, Gloves and Mittens, Hats

The International Trade Mart Section V More than 7,000 booths

Imported Goods, Beddings, Textiles, Knitting Raw Materials, Automobile Supplies and Spare Parts Wedding Supplies, DIY Handicrafts, Curtain Fabric, Commodities Distribution, Pet(Aquatic) Products, Motorcycle Parts, E-commerce Service

Yiwu International Production Materials Market More than 4200 Booths

Leather Raw Materials,Lamps, Food Processing Machinery (Hotel Supplies)Hard,Electric Tools,Printing and Packaging Machinery, etc