Kind Reminder:
Buyers can directly print the bar code after information verfication

NOV.1st-3rd 8:30-17:00
NOV.4th 8:30-14:00

TEL:

0579-85415888

trade@yiwufair.com
You are here:

About Yiwu Markets
Yiwu Commodities Market is known as the "Ocean of Commodities, and Paradise for Shoppers". Since its establishment in 1982, Yiwu market has occupied a total business area of 6.4 million square meters with 75,000 commercial booths, over 210,000 people working in it, covering over 2,100,000 commodities. In 2005, according to the report Astonishing Figures of China issued by the United Nation, the World Bank and Morgan Stanley, Yiwu market is the largest commodities market in the world. Every year, commodities are exported to more than 200 countries and regions. The UNHCR, Carrefour Asia and Ministry of Foreign Affairs have all set up their own purchasing centers in the city.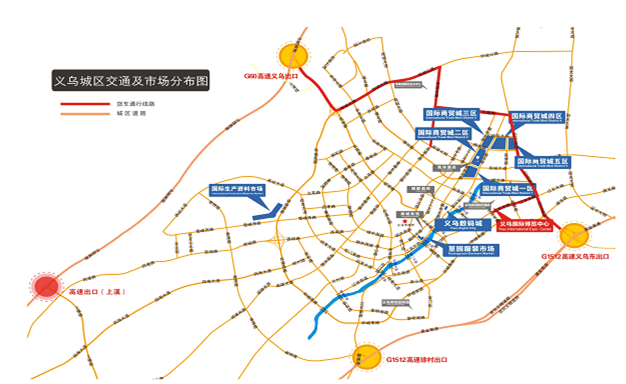 Huangyuan Market More than 4992 booths

Jeans/trousers/clothing customization/comprehensive retail/clothing accessories, /women's wear/ pajamas/sweaters /sportswear (shirts)/children's wear/the Korean Import Garment City

The international Trade Mart District 1 More than 10500 booths

flowers (artificial flower)/flower accessories/plush toys/inflatable toys/electric toys /ordinary toys/headwear /jewelry/festive crafts/decoration crafts/porcelain crystals/photo frames/accessories/ manufacturing enterprises

The international Trade Mart District 2 More than 8000 booths

bags/umbrellas/poncho bags/outdoor leisure supplies/gift packaging /processing industries/hardware tools /accessories/electrical products/locks and vehicles/hardware kitchen and toilet/small household appliances/telecommunications equipment/electronic instruments/clocks/watches

The international Trade Mart District 3 More than 6000 booths

pen /ink supplies/paper products/glasses/ operate office /school supplies /sports equipment/sports and leisure supplies/cosmetics, zippers/buttons/garment accessories

The international Trade Mart District 4 More than 16000 booths

socks/underpants/articles of daily use/gloves/hats/other needle cotton/footwear/ribbons/laces/ties/ wool /towels/bras, underwear, belts and scarves

The International Trade Mart Section V More than 7,000 booths

import commodities/bedding/hair products/knitted fabrics (curtain cloth)/wedding products/knitted raw materials/hotel supplies/automotive supplies and accessories/pet (aquarium) supplies/commodities distribution

Yiwu International Production Materials Market More than 4200 Booths

creative decoration (soft package) supplies, medium and high grade lamps, household appliances, artificial flowers, leather, sewing equipment, Hotel equipment, mechanical and electrical equipment, loom, injection molding machine, printing and packaging machinery, plastic particles, PEOP, etc.